Military Transport is Easy with Us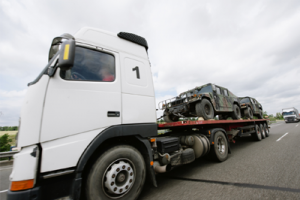 At Long Island Car Transport, we understand that an important part of your job as an active member of the US Army, Navy, Marines and Air Force so being able to respond quickly to the situation. We know the challenge of the military life and also know you are probably on a fairly tight stipend from the government. And for that, we are able to work with military families like yours to make military car transport as affordable as it can be.
Transporting a Military Vehicle
Like heavy haul, military vehicle shipping is a different method of a car moving, and it is also a hard one. Special permits and licenses are needed to ship this kind of vehicles as they are special. The process needs to include a professional team and experts. It is a tough process and often military vehicles are large in their sizes.
Professional Vehicle Transporter
As one of the uncommon types of vehicle transport, military transport takes a lot of experience from a carrier in heavy-duty loading. The transporter must be a pro which is required! Long Island Car Transport can help you with the high-quality services for military vehicles. We are one of the unique companies providing heavy haul services for over a decade. Over the years, we have gained a huge reputation in the car transport industry.
Our Team Will Help
Our team of professional people, starting with live agents and ending with expert drivers, is eager to help you with any kind of question you might have. Indeed, you can ask any questions about the equipment we use to transport a vehicle. It will be better if you ask the questions of the driver, they will give proper information about the needed equipment. You must know for sure, in case, your military vehicle is something more classic and elder, you can always use Enclosed Auto Transport service. It is the safest method of car transport.
Give us a call at (929) 229-0339 or get a FREE quote online for your Military Vehicle Shipping. Long Island Car Transport is ready to take care of every issue.