Got a Luxury Car? This type is for you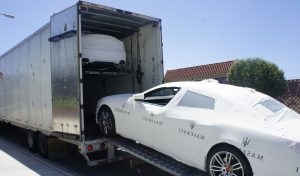 When choosing an option for your vehicle transport, you should always consider the conditions. Also, what you have to pay attention to is the cost of the transport. Enclosed Auto Transport is the complete opposite of Open Car Transport. When transporting a vehicle, there are elements that the cars are exposed to such as wind, rocks, snow, dust and once in a while hail.
Although, enclosed auto transport can cost you between 75% and 100% more than open auto transport, your luxury vehicle, as well as, the classic car needs this kind of care to be away from the outside effects.
Long Island Car Transport Offers Enclosed Shipping
At Long Island Car Transport, we provide hard-side enclosed carriers that protect against all outside elements. It is protective enough to keep your luxury or classic car secured in all aspects. This is the safest method of car transport if you want to take a good care of your vehicle. We are ready to take that good care and transport your vehicle in the right way. We know how to handle special cargo.
Cost of Enclosed Auto Transport
Long Island Car Transport is one of the unique companies offering all affordable service altogether, including enclosed transport. When it comes to transporting a high-end vehicle, don't choose a company that is based only on prices. The enclosed carrier is more expensive and there are several reasons for that.
The cost higher because the enclosed trailer is a bit special and more expensive. The drivers that operate enclosed carriers must learn how to do it in detail.
The liability and cargo insurance for a covered auto transport truck is higher due to their high-end cargo. This means the carrier pays more out of the packet to provide insurance for its cargo.
In the US only about, ten percent of the whole fleet of car shipping trucks is enclosed, which makes this type of transport less available and hence more expensive. Prices go up, even more, when there is higher demand on a specific route you might be interested.
Our rates are supply and demand driven. This makes them affordable to the customer and acceptable by the truck driver. What happens is that customers actually compete against other customers for a spot on the carrier. When the demand is high the truck space is limited, and this means that vehicles priced with a realistic market price ship first.
---
Feel free to call us at (929) 229-0339 for more information.