Cheap Car Shipping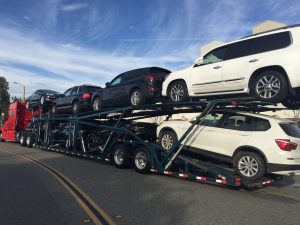 When thinking about moving a car, you first imagine the trailers that you are seeing on the highways. That type of shipping is called Open Car Transport. It is the most common and cheap method to move a car. During this type, the carrier takes your vehicle and puts on the trailer by attaching it tightly to the truck. Do you it is not safe? Well, you are wrong because with a professional like we are, Long Island Car Transport, you don't even have to think about the safety. Our experienced drivers are taking a good care of your vehicle during all the process.
Would you like to have your vehicle placed on the top part? Or a particular space? We can discuss it over the phone. Everything is possible, all you need to do id to trust us.
We have started our business by moving cars on open trailers. So, we got specialized in Open Car Transport, first, then we started to explore the other types and became professional in that types as well. Everything is just a matter of time. And we took that time to provide our customers with the highest level of services.
Open Car Transport by Long Island Car Transport
There is a very little chance that your car can be damaged, but it can also happen while you drive the car yourself. However, Long Island Car Transport has insurance, and once we pick up your vehicle, we take care of it until it's delivered to your desired location. Long Island Car Transport hires the best drivers who have experience driving trucks. Before your car is picked up, we recommend removing all important documents and items. There're some special vehicles that are best to be transported enclosed. You can read more info by visiting our Enclosed Car Transport page. Also, read what our satisfied customers have to say about our auto transport company. Our clients find our car shipping process worry-free.
Our Team
Long Island Car Transport crew consists of skillful professionals who are experts in their field. Furthermore, we cooperate only with experienced and qualified truckers who will take care of your vehicle as their own.
Contact us for more information about our services and rates. Our live agents will assist you with all the needed information and will answer any kind of answer you may have. Don't think twice when using Long Island Car Transport services, you will never regret it!
Long Island Car Transport cares about your time and money!